Musical Theatre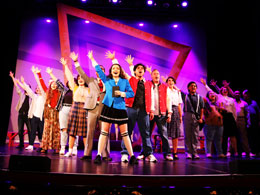 Grades 1-12
Thursdays 5-6:30pm

Fall registration opening soon.
This semester students will be working on selections from a Broadway Musical!
Our musical theatre program covers ALL ASPECTS of a production for beginner students who are interested in Performing Arts.
During week 1 students will audition with provided materials and will be placed in groups based on skill level
The rest of their semester will be spent learning pieces from their "Semester Focus Show" in preparation for their end of semester showcase!
Students will have 30 minutes with each instructor (Acting, Music and Dance) every week.
It is strongly suggested that this is the first class students take if they are interested in furthering their skills to participate in Acting or a Junior Production.
*At the end of every semester, students receive a progress report that will guide them to which courses they should continue with for the following semester or summer programs*
REGISTER NOW