Auditions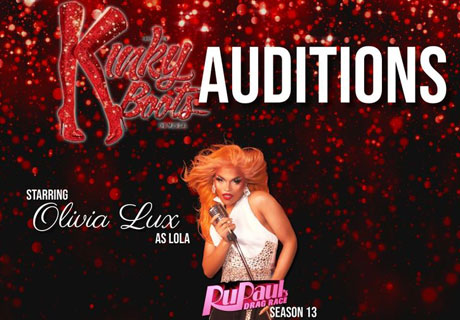 Kinky Boots Auditions
SATURDAY, APRIL 8, 2023 AT 11 AM
VIEW INFO ON FACEBOOK
Open Auditions for ACT's production of KINKY BOOTS! Kinky Boots will star Olivia Lux, from season 13 of RuPaul's Drag Race, as Lola. All roles except Lola are open.
Auditions will be held April 8th 2023 at 1000 Florida Avenue Suite A Hagerstown MD. Check-in will begin at 11am and we will start auditions promptly at 12pm.


***BIPOC highly encouraged to audition****


Please prepare 32 bars of a song from the show, by the character you are auditioning for. If you are auditioning for a non-singing role or ensemble pick any song from the show to sing. Be prepared to dance and read from the script.
Directed by Scott Ruble
Music Directed by Lawren Hill
Choreographed by Chelsea Bondarenko
Produced by Robbie Soto
Show will take place August 4th and 5th at the Maryland Theatre.


Kinky Boots is the big-hearted musical extravaganza that won six Tony's including Best Musical, the Grammy for Best Musical Theatre album and London's Olivier Award for Best Musical. Kinky Boots features a joyous, Tony-winning score by pop icon Cyndi Lauper, and a hilarious, uplifting book by four-time Tony winner, Harvey Fierstein. Billy Porter won a Best Actor Tony Award for his portrayal of Lola.


Charlie Price has reluctantly inherited his father's shoe factory, which is on the verge of bankruptcy. Trying to live up to his father's legacy and save his family business, Charlie finds inspiration in the form of Lola, a fabulous entertainer in need of some sturdy stilettos. As they work to turn the factory around, this unlikely pair find that they have more in common than they realized... and discover that when you change your mind, you can change your whole world.